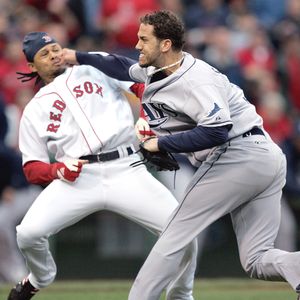 The Boston Red Sox and Tampa Bay Rays once again played in a fiesty game on Thursday night and there was even a bench clearing brawl in the second inning.  Coco Crisp was hit in the right hip by Rays starting pitcher James Shields and Crisp quickly charged the mound at Shields.  Shields threw a wild right punch and Crisp countered with a few punches of his own as he was tackled by Rays catcher Dioner Navarro.  Rays DH Jonny Gomes charged the mound from the dugout, jumped on Navarro and Crisp, and threw a few punches that hit Crisp while he was on the ground.  Crisp, Shields, and Gomes were all ejected from the game and will all be suspended 5-7 games each I would imagine.
As for the game, the Red Sox defeated the Rays 7-1.  Manny Ramirez hit a three run home run in the first inning that scored Dustin Pedroia and J.D. Drew.  In the second inning Pedroia had a sacrafice fly that scored another run.  After a scoreless third inning, the Red Sox scored three more runs in the fourth inning on a bases loaded walk to Drew and then a two run single by Ramirez.
Jon Lester picked up the win as he tossed 6 1/3 innings.  Lester gave up eight hits, one run, and recorded five strikeouts while improving his record to 4-3 on the year.  Mike Timlin pitched 1 2/3 innings in relief of Lester before David Aardsma pitched the ninth inning.
The Red Sox will now start up a series with the Seattle Mariners on Friday.
-------------------------------------------------------------------------------------------------------
9 Responses to "Red Sox and Rays brawl as Red Sox win 7-1"
Leave a Reply
You must be logged in to post a comment.